We are proud to introduce our "Virtual Beis Medrash".
The Virtual Beis Medrash offers a curated collection of content focusing on a particular topic or set of topics in medical halacha.
As a participant, you will be able to participate in webcasts, online shiurim, and receive exclusive content from some of the most prominent Poskim and medical professionals in the world today – all from the comfort of your computer.

Last year's inaugural series for the Virtual Beis Medrash focused on medical halacha issues on Yom Kippur and was a tremendous success.

This year's Virtual Beis Medrash will focus on "Electricity on Shabbos in the Digital Age"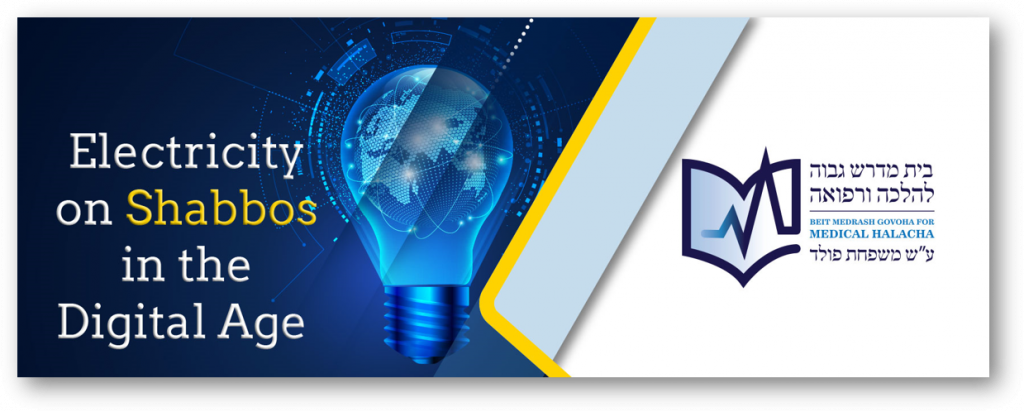 This 5-part online course will look at the rich history of Halachic debate on the issue of electricity on Shabbos and provide an overview of the stages of scientific and technological development that have impacted on related Halachic rulings.
Among the topics that we will discuss will be the Halachic status of today's digital devices that contain microelectronic components and wireless technology. Emphasis will be placed on the use of electronic devices in the framework of medical care, and on hospital policies that are confluent with the Halachos of Shabbos.
This series will offer the following:
A 5-part series of video shiurim (in English) relating to Electricity on Shabbos in the Digital Age (given by Rabbi Yossi Sprung)
Source material and other related resources for participants
Complimentary, premium content relating to these topics including Piskei Halacha from HaGaon Rav Asher Weiss shlit"a
*****
Registration is FREE and all materials and shiurim will be delivered directly to your inbox and accessible online at any time, at your convenience

*****
There will be an option to join these shiurim via live-stream with an opportunity to participate in discussion and Q&A at the end of each shiur. Each shiur will also be recorded and available online